---
---
Features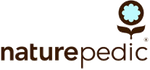 Organic shredded latex core
Outer encasement is also machine washable
Made in U.S.A.
2-in-1 Organic Latex Pillow
from Naturepedic
Naturepedic 2-in-1 Organic Latex Pillow
The innovative and customizable 2-in-1 adjustable latex pillow offers everything your child will need in a pillow including two distinct feels, adjustable fill, and a machine-washable outer layer. The pillow is comprised of two main components. The first is an organic shredded latex core with adjustable fill to get the loft just right for your child. The second component is the outer encasement which features a smooth stretch-knit side and a luxuriously quilted side for two feels that are both truly amazing. The quilted side provides a fluffy cloud-like feel with dual-action compression of PLA fiber and latex. The smooth side easily stretches to conform to the unique shape of your child's head and neck. The outer encasement is also machine washable so you can keep the pillow clean and hygienic for years to come.
OUTER FABRIC: Organic cotton stretch-knit on one side and quilted organic cotton sateen on the other
FILLING: Shredded organic latex core plus PLA batting in the quilt
Made in U.S.A. with domestic and imported fabric and components