---
---
Features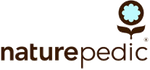 Breathable layer between the baby and the mattress
Breathable layer is waterproof and removable
Organic cotton surface
No harmful chemicals and no flame retardants
GREENGUARD Gold Certified
Breathable Mini Crib Protector Pad
from Naturepedic
Breathable Mini Crib Protector Pad
The Naturepedic breathable pad is a washable, waterproof, breathable pad that can be added to any standard mini-crib mattress. Add an extra layer of breathability to your baby's mini-crib mattress with the Naturepedic Organic Breathable Crib Cover. It combines organic cotton fiber and a breathable mesh pad to maximize airflow for your baby.
Breathable layer between the baby and the mattress
Breathable layer is waterproof and removable – wash and dry
Organic cotton surface
Full breathability with full hygiene
Make any mini-crib mattress breathable
Waterproof backing acts as a built-in mattress protector
No harmful chemicals and no flame retardants
No toxic chemical odors/smells
Machine washable
GREENGUARD Gold Certified
Made Safe Certified
No vinyl, phthalates, polyurethane foam, flame retardant chemicals or barriers, formaldehyde, pesticides, GMO's, glues/adhesives, etc.