---
---
Features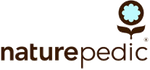 Stretch-knit organic cotton fabric
Strong and sturdy
Solid North American wood
No harmful chemicals
Made in U.S.A.
DELUXE 7" Bed Mattress Foundation
from Naturepedic
Naturepedic DELUXE 7" Bed Mattress Foundation

Designed to perfectly complement your Naturepedic mattress, our certified organic foundations are strong and sturdy for long-lasting support. They're made with North American wood and feature luxurious organic cotton fabrics and extra slats for additional strength. A quality foundation is essential to maintaining the integrity of your mattress over time and can make a noticeable difference in the feel of your bed as well. The extra slats help prevent the bottom of your mattress from developing a waviness that can reduce the lifespan of the mattress. Made in-house with meticulous attention to detail. No flame retardants.
SPECIFICATIONS

MT50B-KD TWIN - 38" x 75" x 7"
MT50XLB-KD TWIN XL - 38" x 80" x 7"
MF50B-KD FULL - 53" x 75" x 7"
MQ50B-KD QUEEN - 60" x 80" x 7"
FABRIC: Organic cotton
CORE: Solid wood
Made in U.S.A. with domestic and imported fabric and components
FABRIC: Organic cotton
CORE: Solid wood
Made in U.S.A. with domestic and imported fabric and components