---
---
Features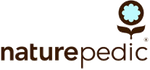 Organic cotton fabric and fill
No harmful chemicals and no flame retardants
Easy to clean non-toxic food-grade waterproof surface
Lightweight for easy sheet changing
GREENGUARD Gold Certified
Lightweight Classic Seamless 2-Stage Crib & Toddler Mattress
from Naturepedic
Naturepedic Organic Classic Lightweight 2-Stage Baby Crib and Toddler Mattress
An excellent choice for parents seeking to eliminate potentially harmful chemicals and allergens. Made from organic and non-toxic materials, it will provide a more natural, healthier, and more comfortable sleep environment. Features include a luxurious organic cotton cover, organic cotton fill, seamless waterproof edges, 2-stage dual firmness, edge support, and patented easy-to-clean waterproof surface. This mattress is lightweight for easy sheet changes.
Naturepedic is a GOTS certified organic mattress manufacturer and has earned the trust of parents and doctors across the country. Winner of numerous awards and prestigious endorsements, Naturepedic organic crib mattresses meet the highest physical, chemical, allergenic, and hygienic safety standards.
Organic cotton fabric and fill
No harmful chemicals and no flame retardants
No toxic chemical odors/smells
Easy to clean non-toxic food-grade waterproof surface (made from non-GMO sugarcane)
2 stage design - firm infant side/cushion firm toddler side
Seamless Edges - Easy to wipe clean
Lightweight for easy sheet changing
Proper support for infants
Extra-firm edge support for jumping toddlers
GOTS Certified Organic
Made Safe Certified
GREENGUARD Gold Certified
UL Formaldehyde Free Verified
No vinyl, phthalates, polyurethane foam, flame retardant chemicals or barriers, formaldehyde, pesticides, GMO's, glues/adhesives, etc.
Recommended by Zero Toxics Product Registry, Allergy Kids Foundation, Healthy Child Healthy World, Kids for Saving Earth, Green America, American Sustainable Business Council, Clean Production Action, and more.