---
---
Features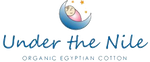 This gift basket contains: 1 Jungle Animal Print Print Convertible, Size 0-3m, 1 Giraffe print Lovey doll, 1 Grey Stripe Print Skull Hat Size 0-3m, Organic Palm Frond Basket
100% Egyptian organic cotton
GOTS certified
Made at fair trade farm in Egypt
Absolutely NO Azo colorants, BPA, flame retardants, formaldehyde, fragrance, PVC or lead.
Jungle Jubilee Gift Set
from Under the Nile
The Jungle Jubilee Gift Set is the perfect organic starter set for babies. A sweet gift for friends and family, this basket features our organic Egyptian cotton convertible, a sleeping doll and skull hat in a cute unisex print.
The convertible changes from a gown into a romper, making diaper changes easy at night, and play comfortable during the day. It also features sewn in fold-over hand mittens for warm, protected newborn hands. The knit hat is also made to fit closely for warmth, making it an essential for any newborn. This gift set is the perfect start for any parent who wants exclusively organic and premium quality attire for their baby.
All clothing and accessories are made of ultra soft 100% organic Egyptian Cotton, certified by GOTS and the Gold Seal of authentic Egyptian Cotton. The basket is made of organic Palm Fronds produced and woven at the same organic farm that grow our Egyptian cotton.
It is all made in Egypt at a sustainable Certified Fair Trade facility without the use of pesticides or chemicals throughout the entire production process. These items are free from toxins, including absolutely NO Azo colorants, BPA, flame retardants, formaldehyde, fragrance, PVC or lead.
This gift basket contains:
1 Jungle Animal Print Print Convertible, Size 0-3m
1 Jungle Animal Print Sleeping Doll
1 Grey Stripe Print Skull Hat Size 0-3m
Organic Palm Frond Basket