5 Best Organic Baby Snacks
Our favorite brands and types of organic baby snacks.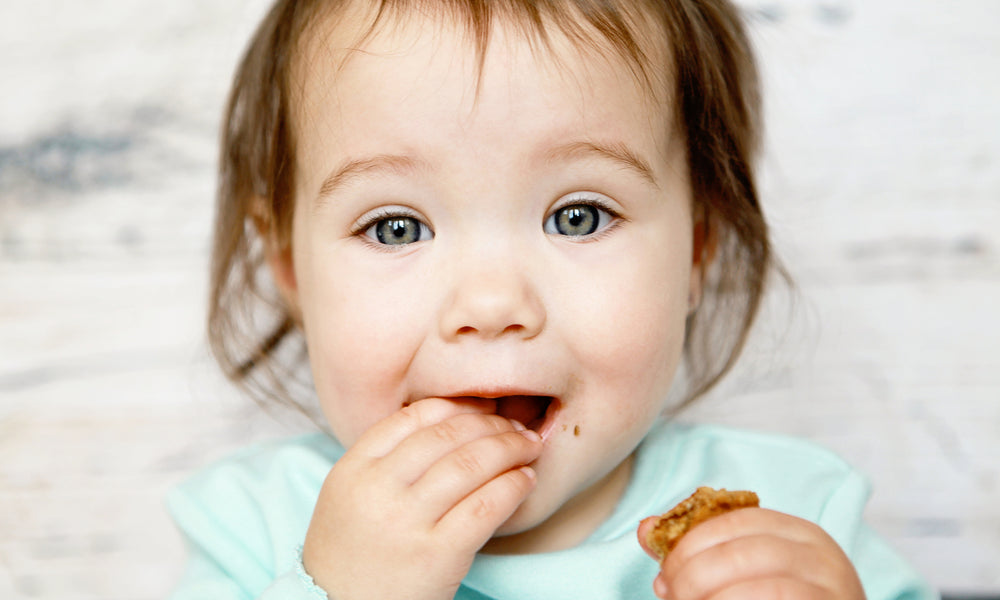 by Jess Wartinger
Aug 02, 2018
After almost ten years of parenting (and having walked through the baby stage with five little ones), I've decided to embrace a simple truth:
Every stage of babyhood is my favorite.
While this may seem completely unrealistic, I've learned over the years that I truly love each stage my children grow through. Sure, there are the annoying bits: diaper explosions, spit-up everywhere, sleepless nights. But in the midst of the exhaustion and mess, there shines through a first smile, a true belly laugh, and snuggles galore.
As baby heads towards the six-month mark, all of a sudden he'll be ready for solid foods. This is a major step towards independence and, while this can be a bit sad, an exciting world awaits baby. New tastes, textures, and snacks are just waiting for baby to explore.
Article Continues Below Advertisement
If your family eats organic, you'll want your baby food to meet that criteria too. Here's our guide to the best organic baby snacks, many of which are easily available in your local grocery store. 
5 Best Organic Baby Snacks
There are all types of organic baby snacks: puffs, teethers, bites, and munchies. Here are our favorite brands in each category so you can find what fits your family's needs.
Snack #1 - Organic Baby Puffs
Puffs are the new alternative to Cheerios. Their size makes them easy for baby to pick up and mash with their gums. The unique aspects of puffs is that they're made to dissolve easily in baby's mouth (making them easier to swallow and reducing the risk of choking).
While puffs aren't a substitute for real fruit and veggies, they are a quick and simple way to bring finger foods on the go.
Article Continues Below Advertisement
Our favorite organic puffs are Happy Baby Superfood Puffs. These puffs are fortified with vitamins and minerals to promote eye and brain health. They're low in sugar (an ingredient most brands sneak into their baby puffs) and sweetened with real fruit juice concentrate. Happy Baby Superfood Puffs come in six different flavors, with something for every baby to love.
Snack #2 - Organic Baby Biscuits and Teethers
Biscuits and teethers are perfect for your little one who loves to self-feed. They help encourage coordination of getting food from table to mouth and are helpful for when baby wants to continually gnaw on toys and fingers.
Our favorite organic teethers are Plum Organics Little Teethers. These organic multigrain teething wafers are low in sugar (less than one gram per wafer). They come in three unique flavors and are perfect for helping your little one learn to self-feed.
Snack #3 - Organic Baby Bites
Baby bites are freeze-dried yogurt and fruit drops that dissolve in baby's mouth, releasing a burst of flavor. They're a perfect beginning snack because they're easy to chew and swallow.
Article Continues Below Advertisement
Our favorite organic baby bites are Happy Baby Organic Yogis. With probiotics to help baby's digestive health, these yogurt bites are an easy alternative to spooning yogurt on the go. They come in five flavors, two of which are made with organic greek yogurt.
Does your baby need to avoid dairy? Happy Baby has an answer to that. You'll want to check out Happy Baby Organic Coconut Creamies, which are dairy-free and don't contain added cane sugar.
Snack #4 - Organic Baby Munchies
Baby munchies are a fun snack for babies who are confident biting and mashing foods. While somewhat dissolvable, munchies provide babies and toddlers the opportunity to practice taking bites and chewing foods before biting off more.
Our favorite organic baby munchies are Sprout Organic Curlz. These snacks come in three different flavors (two of which are dairy-free). They're packed with plants and don't contain any artificial ingredients.
Article Continues Below Advertisement
Snack #5 - Organic Baby Yogurt
Baby yogurt is made with whole milk and contains probiotics and are packed with fruits and veggies.
Our favorite baby yogurt is Stoneyfield Organic YoBaby. These yogurts are great for babies over six months old and contain no added sweeteners. With five flavor combinations, there's something for every baby to love.
With a wealth of organic snack options for your baby, which will become your family's favorites?
---
Jess Wartinger resides in rural New York with her husband and five children. Formerly an early elementary teacher, Jess currently spends her time loving her kids and holding down the fort at home.
---
Facebook Comments
---