Homemade Stage 3 Baby Food: A Baby's Time for Food Exploration
When your baby is ready to explore new things at mealtime.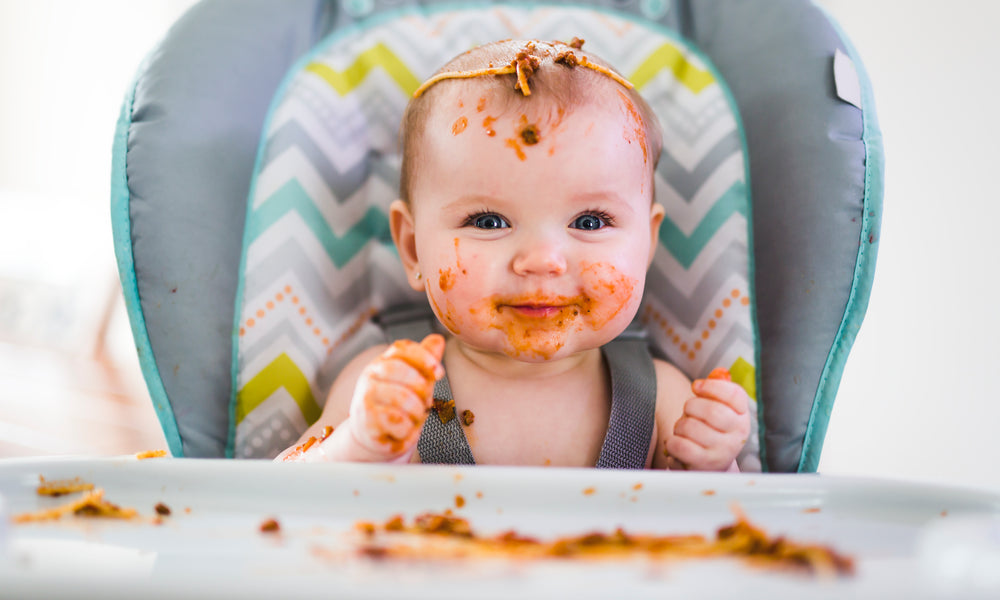 by Elizabeth Vale
Jun 20, 2018
Your baby is growing at a rapid pace! The first year is flying by, and your little bundle of joy is starting to venture out on his or her own to discover the world (or your house; with that new exploration comes a desire to do new things for himself or herself.
One of those new things is learning how to eat on his or her own. Stage three baby food fosters that desire by introducing foods that allow your child to have mealtime independence.
When to Start Stage 3 Baby Food
Your child is ready for stage three baby food when he or she can sit unassisted, is possibly starting to crawl or cruise around the house and is around 8-10 months old. 
Keep in mind, it's important to pay attention to your individual baby's cues for when to begin stage 3 baby food. If you need help differentiating between the different stages of baby food, you can brush up with these articles:
Article Continues Below Advertisement
What is Stage Three Baby Food?
Stage three baby food is all about preparing chunkier food so that your child can continue to practice chewing and can start to feed himself or herself. This is also the stage when your baby will be learning new utensil skills.
Related: Trendy Zoo Utensils perfect for little hands
At this stage, you can feed your child essentially the same thing you feed the rest of your family with just a few minor adjustments, i.e., if you're feeding your family chicken and pasta, chop or grind the chicken into small pieces and chop the pasta into small, bite-size pieces before serving. Also, remember to separate out your baby's portion before adding salt because your child's immature kidneys aren't able to process a significant amount of salt at this young age. 
What Foods Should I Introduce at this Stage?
Although you can feed your child almost anything at this stage, there are a few very important exceptions. Honey and cow's milk shouldn't be introduced until at least 12 months of age - honey due to botulism concerns and cow's milk because it's hard for babies to digest. You should also avoid foods that are choking hazards, such as grapes, hot dogs, whole nuts and seeds, popcorn, and hard candies. 
Article Continues Below Advertisement
So, what are some great foods to try at this stage? Here are a few to start you out:
Chopped raw avocado.
Soft, chopped fruit, such as bananas, kiwis, melons and berries.
Scrambled eggs.
Ground chicken or beef, cooked and chopped into small pieces.
Soft-cooked pasta - shells, pastina, elbows and ditalini. 
Chopped, soft-cooked veggies, such as carrots, peas, green beans, broccoli and asparagus.
Low-mercury fish, such as cod, flounder salmon, cooked and chopped into small pieces.
Also, for quick, on-the-go snacks, there are some great store-bought options, such as grain and fruit puffs, yogurt drops and granola bars made just for babies and toddlers.
Homemade Stage Three Baby Food Recipe
Pasta is a perfect food for this age. It's quick, soft, customizable and easy to pick up. Below, I've included an easy, baby-friendly pasta recipe that's perfect for this stage. 
Pasta Parmesan with Peas
Article Continues Below Advertisement
Ingredients:
1/4 c.  Dry pasta - shells, elbows or ditalini work best.
1    T.  Unsalted butter
2    T.  Parmesan cheese
2    T.  Frozen peas
Directions:
Cook pasta until very soft - not al dente. Mix in butter until melted and then add parmesan cheese and peas. Stir and cook mixture until combined and peas are cooked through. 
Related: This hook-on high chair is perfect for a baby on the go!
Article Continues Below Advertisement
Whatever foods you introduce into your baby's diet, this stage is a time of fun food exploration and a time of learning about new things. Enjoy these special moments because they'll be gone before you know it. 
---
Elizabeth Vale
---
Facebook Comments
---