3 Alpha Chair Accessories Help the Transition from Birth through Adulthood
Don't even think of buying this adjustable wooden chair without looking at all these features.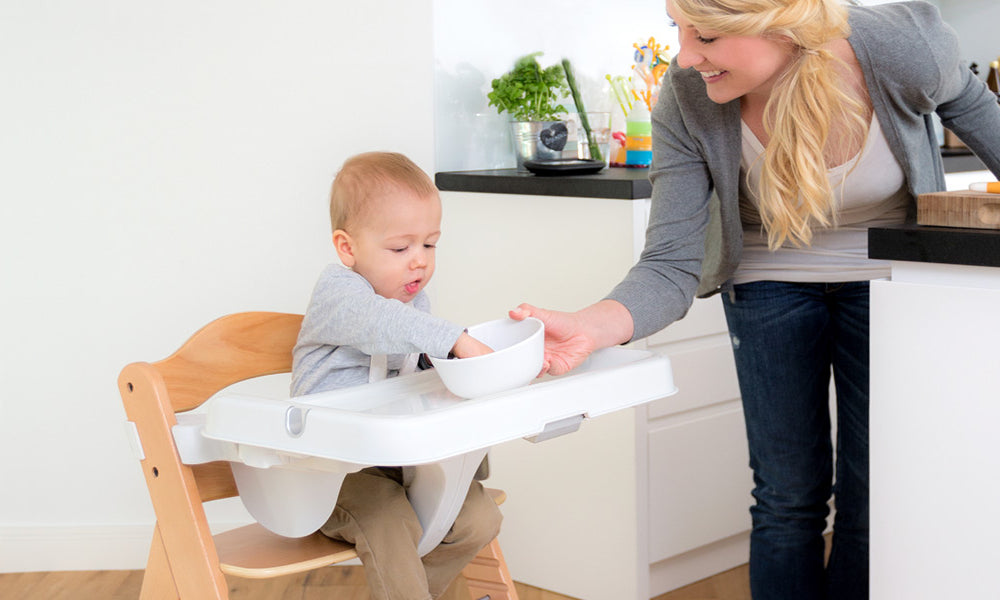 While the Hauck Alpha chair on its own is a beautiful, modern addition to your home, there are 3 Alpha chair accessories that help this wooden chair transition from birth all the way through adulthood.
Some parents think too narrowly when filling out their baby registry. Sure, every baby needs a high chair eventually, but if I told you there was an affordable, streamlined, and practical chair that was multi-functional for your baby, wouldn't you be intrigued to learn more?
I dare say the Hauck Alpha Chair is exactly that! But what really makes this resilient chair remarkable is how it transforms when paired with a few accessories.
Article Continues Below Advertisement
3 Alpha Chair Accessories Help the Transition from Birth through Adulthood
The Alpha Chair offers three accessories that make this chair truly a birth to college chair. Let's explore the bouncy seat, harness + tray & seat pad that help it transform and transition from stage to stage. 
BIRTH: 0- 6mo
First, we love the Alpha 2-in-1 Bouncer Seat because it snaps easily onto the Alpha Chair frame and back to the independent "bouncer frame". That means parents can keep it down on the floor as a traditional bouncer or attach it to the chair to keep baby off the floor. 
Article Continues Below Advertisement
Why would you want to keep baby in a bouncy seat off the floor? For several reasons. Here are just a few of the advantages and comments we've heard from moms that love this feature:
PETS: Parents can't always trust their pets around their newborns. Having baby off the floor removes that temptation.
YOUNG SIBLINGS: Not to compare siblings with pets, but the same reasoning can apply to both. If baby has young siblings at home, you never know if they might love on them too hard or put unwanted objects in the bouncy seat if it's on the floor.
EYE LEVEL: Having the Alpha 2-in-1 Bouncy Seat on the Alpha Chair frame allows baby to be eye level when the family gathers around the kitchen table. This facilitates more up-close and personal time with parents (& siblings too) while performing everyday family activities.
HIGHCHAIR: 4mo - 2yr
The second accessory we love is the Alpha Chair Tray + 5-Point Harness. We love this tray!  This well thought-out, parent-friendly tray is one of the best on the market and GREAT that it's paired with a chair that can be used for so long. 
The tray has an easy, one-handed release at the front of the tray, as well as a second removable tray for easy cleaning. The base tray has a convenient "finger hole" on each side of the tray that makes removing the second tray really easy.
Article Continues Below Advertisement
The second tray is also genius. Think about trying to clean a baby with a messy face while they are in front of a tray full of spaghetti; they dip one hand in the mess while you're cleaning the other. With the tray out of the way, you can "get to business" with the food mess out of the way. 
The Alpha Tray features a built-in, molded cup holder with high molded sides to catch spills, in addition to a huge surface area. 
Perhaps our FAVORITE part about this tray is that it has three growth stages:
Article Continues Below Advertisement
Stage One positions the tray closer to a younger baby. It helps hold a newly sitting baby in place and supports them to a greater degree.
Stage Two allows more room for a growing toddler.
Stage Three accommodates a larger child.
YOUNG TODDLER: 1yr - 4yr
When baby is still wiggly and needs the passive restraint and harness straps - but is ready to eat at the table - the Alpha Chair can be converted to a toddler chair by removing the tray, but keeping the U shaped plastic restraint and harness still attached to the chair.
TODDLER/CHILD: 3yr - 10yr
The next stage the Alpha Chair transitions to is a toddler/ child chair. At this stage, there is a removable seat pad to prevent "wiggly kid syndrome". In other words, if a toddler sits with their feet fully supported in a chair that feels comfortable, they are more likely to sit still at the table and focus on eating.
The Alpha Chair pad is a well-priced sanity saver.
TWEEN/ADULT:  7yr - 99yr
After the toddler stage, your Alpha Chair can be used as an adult chair. This transformation takes place by swapping the seat platform and the foot platform and adjusting the seat height to fit the child, teen or adult.  What once may have been used as a feeding chair could now be used as a desk chair.
So there you have it: 1 chair + 3 accessories = furniture for life! To maximize your Hauck Alpha Chair AND save money, check out our Alpha Chair Ultimate Bundle which includes the Alpha tray & Alpha 2-in-1 Bouncy Seat.
How will you Alpha?
---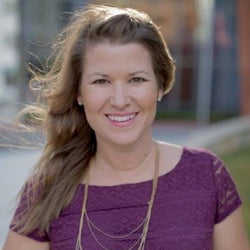 Best-Selling Author & Speaker
Sami Cone is the best-selling author of "Raising Uncommon Kids", is known as the "Frugal Mom" on Nashville's top-rated talk show "Talk of the Town" and educates over a million listeners every day on her nationally syndicated "Family Money Minute". She is proud to call Nashville home with her husband, Rick, and their two teenage children.
Follow Sami Cone:
---
Facebook Comments
---