Best Products for Twins
Our best diaper bags, feeding products, and top strollers for twins.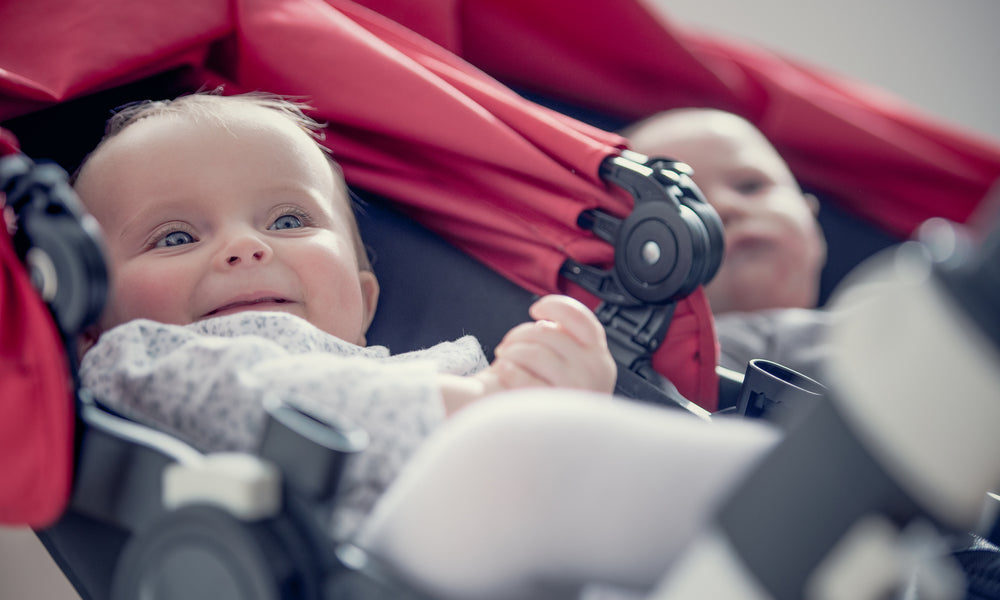 With twins in tow you'll have double the laughs, double the smiles, and double the learning. While it's difficult to completely prepare for your new arrivals, a few products will make life a lot easier (both on the go and at at home).
Take a peek at our best diaper bags, feeding products, and double strollers as you prepare for life with twins.
Best Twin Diaper Bags
Organizing all the essentials for an outing with twins is no small task. Check out these products to help make your trip away from home as easy as possible.
The Skip Hop DUO Weekender is a roomy alternative to traditional diaper bags. With included packing cubes, multiple exterior pockets, an insulated double-bottle pocket, and an easy-access main compartment, this diaper bag will make days (or weekends) out a breeze.
Article Continues Below Advertisement
Petunia Pickle Bottom's Glazed Wistful Weekender has enough pockets for easy organizing of twin essentials. With seven interior organizational pockets, two outside pockets, and an integrated key clip there is room for everything. If this wasn't enough, side snaps allow for interior expansion meaning you can fit even more for your day away.
Best Feeding Products for Twins
Keeping twins fed can be quite the challenge. Luckily there are a few products that might help, whether you're breastfeeding, formula-feeding, or doing a combination of the two.
The My Brest Friend Twin Plus Pillow is a lifesaver for nursing or bottle-feeding. With a wrap-around design, adjustable back support, and double arm support, you're find it time efficient to tandem breastfeed your twins. If bottle-feeding is best for your family, just use the back support to cradle your twins' heads for simultaneous feedings. There's also spare twin plus pillow covers for those days yours is needing a wash.
Whether you're headed back to work or just find pumping to be easier, you'll want a high-quality double electric breast pump. The Medela Pump in Style Backpack or Pump in Style Advanced On-the-Go Tote fit these requirements. With two-phase expression and adjustable settings, these pumps are most similar to breastfeeding your babies.
Article Continues Below Advertisement
Best Double Strollers
Stroller shopping can feel a lot like car shopping. Wheel suspension, number of seats, and maneuverability all come into play. For twins, you'll want a double stroller that easily accepts two infant seats. Here are our top double stroller picks for twins.
If you're looking for the cadillac of strollers, the UPPAbaby VISTA is the one you'll want. A one-step fold, a bassinet for babies, and the ability to adapt for multiples will move this stroller to the top of your list. With multiple conversion options, the UPPAbaby VISTA adapts seamlessly for two UPPAbaby MESA infant seats, two bassinets, or (as your twins grow) two toddler seats. Do note, both upper and lower adapters are needed to adjust for two UPPAbaby MESA infant carriers.
With many of the same features as the UPPAbaby VISTA, the Baby Jogger City Select may be a more cost-effective option for your growing family. This stroller can be arranged in over fifteen configurations, from single-stroller to double (or even triple) stroller. To be on-the-go with twins, you'll want a second seat kit to fit all of your precious cargo.
Getting ready for life with twins can be overwhelming. Gathering your gear, planning for feeding, and preparing for outings can help to alleviate your worries as you enter a new stage with your growing family.
Article Continues Below Advertisement
---
Jess Wartinger resides in rural New York with her husband and five children. Formerly an early elementary teacher, Jess currently spends her time loving her kids and holding down the fort at home.
---
Facebook Comments
---