7 Early Signs of Pregnancy
Could every ache, strange craving, or other symptom mean you're pregnant?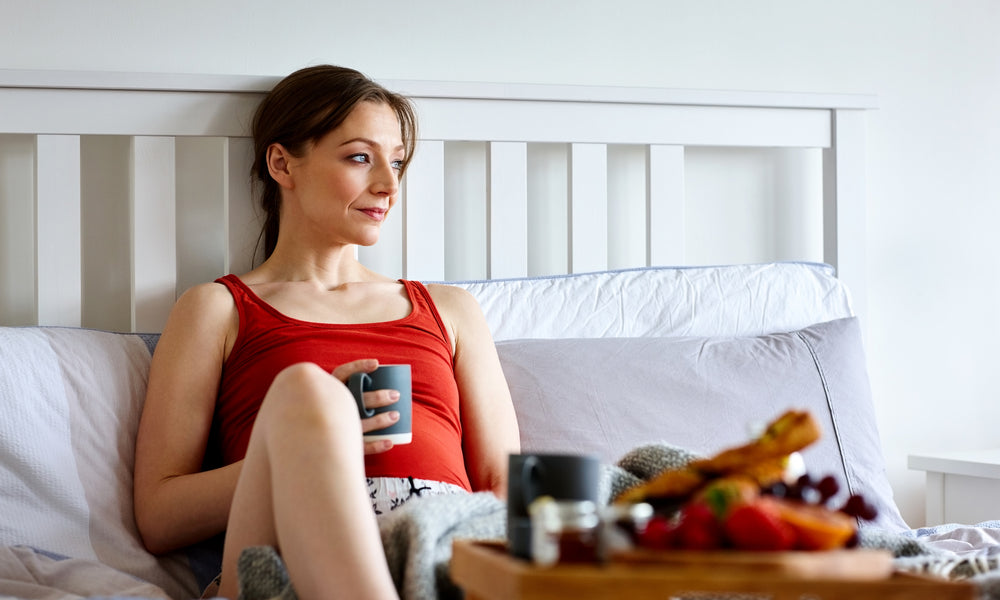 When you're trying to conceive, the two-week window between ovulation and a positive pregnancy test appears never-ending. While a typical two weeks flies by in the blink of an eye, all of a sudden fourteen long days loom ahead as you wait to see if you're expecting.
With our first two pregnancies, each achieved with the help of fertility treatments, this two-week wait was torturous. I began wondering if every ache, strange craving, or other symptoms could mean I was pregnant.
What are the Early Signs of Pregnancy?
Luckily, there are early signs of pregnancy that may point to a growing baby. Unfortunately though, many of these symptoms are similar to premenstrual ones, meaning it can become difficult to know whether or not your period is on the way.
Regardless, it's good to be in-tune with your body and can be fun to speculate while you wait for the days to pass. Here are 7 early signs of pregnancy, many of which I've experienced throughout my pregnancies.
Article Continues Below Advertisement
1. Extreme Fatigue
Fatigue is common in early pregnancy and often appears right away. This isn't just being tired, it's an overwhelming sense of weariness. Without warning your body feels sluggish, heavy, and all thoughts are focused on going to sleep.
This type of fatigue was so strong it led me to take a pregnancy test, finding out we were expecting our third child, despite it being before a missed period (and with no other symptoms).
2. Sensitivity to Smells
Article Continues Below Advertisement
Subtle changes with your sense of smell can be an early sign of pregnancy. All of a sudden, you may notice cooking, the trash, or even your bath products having more scent than usual. Unfortunately, this change in sense can lead to increased nausea throughout pregnancy.
3. Frequent Urination
Typically we associate a frequent urge to urinate with women who are in advanced pregnant. For me, frequent urination has been of the hallmarks of early pregnancy. All of a sudden, I find myself needing to visit the bathroom very often, especially in the evening hours. While this does often ease up in mid-pregnancy, it's a consistent feature of both the first and third trimesters.
4. Appetite Changes
Article Continues Below Advertisement
While nausea plays a big role in first-trimester pregnancy symptoms, it's not the only appetite change to be had. Between 3-5 weeks, often before a positive pregnancy test, my appetite ramps up. 
I'm frequently needing a morning snack, an afternoon snack, and sometimes even an evening snack. This is especially apparent as my typical breakfasts and lunches no longer keep me satisfied. This is a short-lived problem, but something to make note of.
5. Ongoing Nausea
One of the first questions after announcing a pregnancy is almost always an inquiry about how you're feeling. First-trimester nausea may start off slowly around week 5 with a few instances a day of feeling off.
Article Continues Below Advertisement
As a week or two goes by, this ramps-up and turns into an ongoing nausea that can take over and even cause vomiting. This initial sense of feeling off and having an uneasy stomach is a consistent sign of early pregnancy for many women.
6. Breast Changes
Many women notice changes in their breasts in the early weeks of pregnancy. Some report breast swelling, tenderness, or a feeling of fullness. These changes can occur very early on, within a week of conception.
7. Spotting
Spotting can be a common occurrence within 1-2 weeks following ovulation. Some women may find they have light pink or brown discharge for several days leading up to their expected period only to have it mysteriously stop.
Commonly known as implantation bleeding, this in can be an indication of early pregnancy. Strangely enough, I've only noticed spotting when pregnant with my baby girls and never with my baby boys.
Sure Signs of Pregnancy
While it can be fun to wonder if you're pregnant, at the end of the day it's nice to have a clear-cut answer.
You're pregnant if you meet these criteria:
You've missed your period.
You've gotten a positive result on a home pregnancy test.
If you've missed your period but haven't gotten a positive pregnancy test, it's time to continue the waiting game. Your period could be late due to stress (or any number of factors) or it could be that you tested too early. Try waiting a week and testing again if your period hasn't arrived.
If you're pregnant, congratulations! It's time to call your doctor and schedule your initial appointment. From there you'll get a due date and learn how to care for yourself and your baby the best you can. Welcome to pregnancy, it's a wild and exciting ride.
---
Jess Wartinger resides in rural New York with her husband and five children. Formerly an early elementary teacher, Jess currently spends her time loving her kids and holding down the fort at home.
---
Facebook Comments
---