What Makes Maternity Swim Skirts the Popular Summer Solution
Swim skirts are a perfect choice for the expectant mom.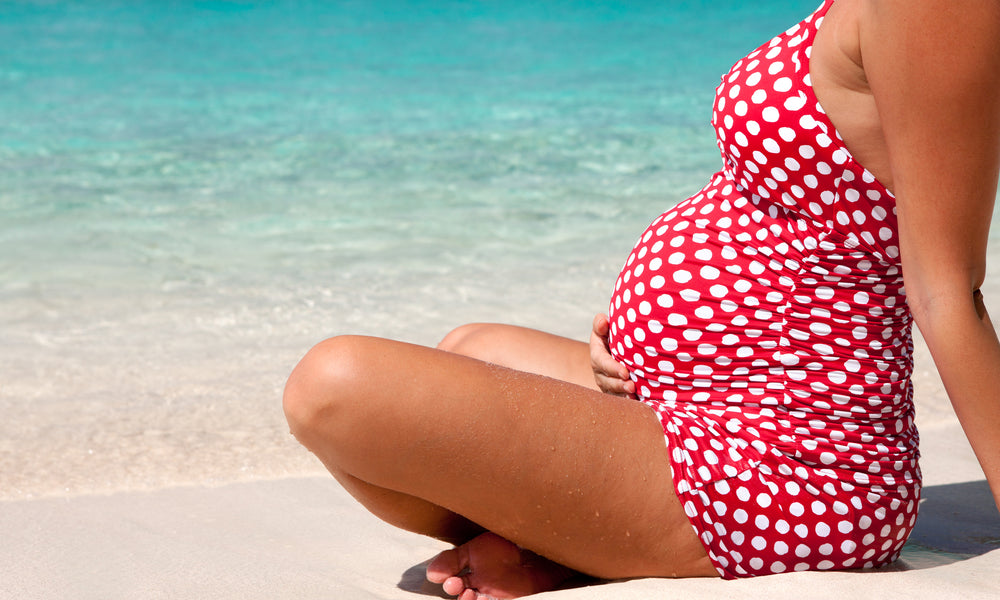 by Baby Earth
Jul 17, 2018
It's summer. You're pregnant - very pregnant - and it's time for a trip to the beach or pool. What do you wear? A one-piece swimsuit? A bikini? A muumuu?
Your choice probably depends on how you feel at the particular stage of pregnancy you are in. Some women feel beautiful in their pregnant skin and want to flaunt every inch of it, so they wear a bikini the whole way through. Go, mama! 
Some, on the other hand, struggle even to want to put on a swimsuit. I get it. I'm not currently pregnant, but I know the struggle. You put on a swimsuit, look in the mirror and wonder if you'll ever feel good in a swimsuit again. You want to go out and enjoy yourself, but you also want to feel comfortable doing it.
That's where swim skirts come in. Swim skirts (and swim dresses) are a great choice for moms (and non-moms) who want to enjoy the pool, beach or water park but don't want to wear a traditional one-piece or two-piece swimsuit.
Article Continues Below Advertisement
3 Reasons to Love Skim Skirts (and Swim Dresses)
More coverage. Let's be honest, the main reason we love swim skirts and swim dresses is that they help cover the areas we feel less than pleased about. The extra fabric around the hips and legs helps us feel like everything isn't on display.
More flexibility. Flexibility isn't something that comes in large supply when you're pregnant, especially in the last few months, so the last thing a pregnant mother wants is to feel like she can't move around because she's dragging around extra fabric from a muumuu or because something will pop out of her small swimsuit. A swim skirt or swim dress gives extra coverage while still allowing the expectant mom to move around.
Comfort. When you're comfortable, you can have more fun. The great thing about wearing a swim skirt or swim dress is that you can play with your kids, bend over or run around without constantly worrying about readjusting your swimsuit bottom. You can just have fun!
Cute Swim Skirt and Swim Dress Options for Pregnant Moms
Charlie Skirted One-Piece Halter Maternity Swimsuit. This adorable skirted swimsuit has a vintage flair and is perfect for the pregnant mom-on-the-go ($78, Nordstrom).

Prego Swimwear Maternity Solid Skirted Bikini Set. This skirted bikini set is great for the mom who wants to stylishly show off her blossoming belly but still wants some extra coverage ($62.40, SwimOutlet.com). 

Mixed Geo Print Twist Back Maternity Tankini Swimsuit. This fun skirted, two-piece tankini set is wonderful for a day at the beach, water park or pool ($29.97, Motherhood Maternity). 

Pink Envelope Maternity Polka-Dot Swimdress. This blue and white polka-dot halter-top swim dress would be a beautiful addition to any mom-to-be's summer wardrobe. It provides great coverage while giving off a bombshell vibe ($59.95, Kohl's).

Prego Ruched Maternity Halter Bikini - Black Dot. This cute and flirty two-piece suit is flattering and provides coverage while still showing off your growing belly ($69.95, Amazon). 
Article Continues Below Advertisement
Whatever swimsuit you choose, whether it's a bikini, one-piece, or swim skirt, just remember to choose whatever makes you feel comfortable, that your pregnant body is creating a miracle, and that regardless of how you feel, you and your pregnant body are beautiful. 
---
Facebook Comments
---