Teen's Tired Mom Halloween Costume is Spot On
How many details can you count in this creative costume?
You may be wondering how a teenager could possibly know what a tired mom looks like or feels like, much less be able to create a tired mom Halloween costume. 
But this 13-year-old nailed it.
As 1 of 9 kids, Jillian Hartsock seemed to think of every detail. There are so many treasures to find in her tired mom costume, but here are just a few we love:
Starbucks
Infant in hand
Toddler clinging to leg
Mom bun (complete with Cheerios in hair)
Target bag (complete with diapers and bottles of wine)
Pacifier clipped to shirt
All we can say is we feel you, Jillian...we feel you.
Article Continues Below Advertisement
---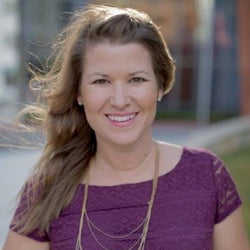 Best-Selling Author & Speaker
Sami Cone is the best-selling author of "Raising Uncommon Kids", is known as the "Frugal Mom" on Nashville's top-rated talk show "Talk of the Town" and educates over a million listeners every day on her nationally syndicated "Family Money Minute". She is proud to call Nashville home with her husband, Rick, and their two teenage children.
Follow Sami Cone:
---
Facebook Comments
---