10 Weeks Pregnant: Your Weekly Pregnancy Guide
At 10 weeks pregnant, your baby's vital organs are formed.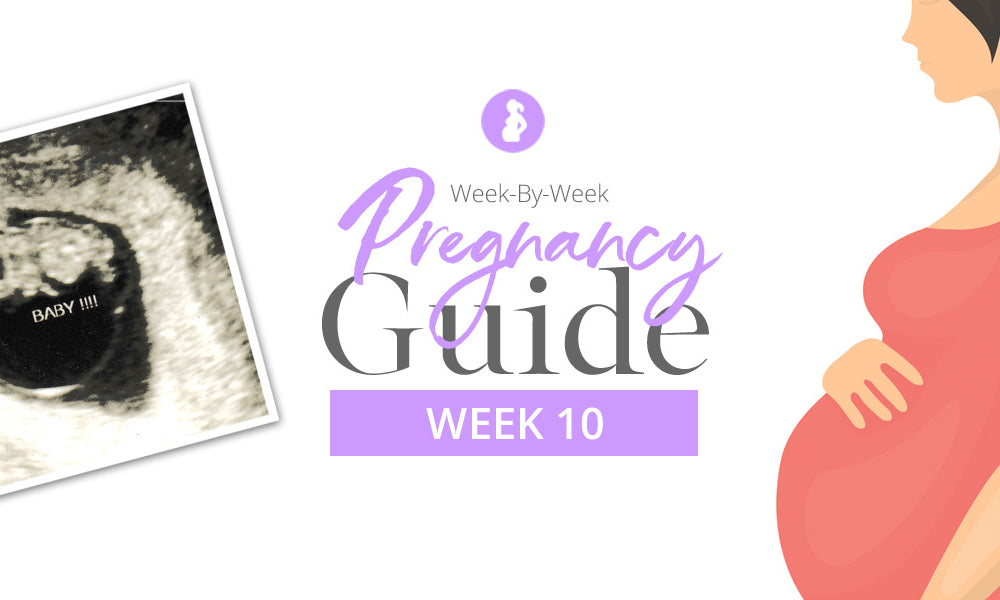 At ten weeks pregnant, you're already a quarter of the way to meeting your baby. While some portions of the past weeks have likely dragged on (especially if you've been having constant symptoms of early pregnancy), you're close to putting the first trimester behind you.
Pregnancy Week 10 Guide
In this week's guide, we'll be looking at baby's growth, how your body is changing, and what to expect at your next doctor's appointment.
How Your Baby is Growing at 10 Weeks Pregnant
Although not large in size, baby continues to grow and change during week 10. Perhaps most notable, your baby has officially graduated from embryo to fetus this week. While there's still a lot of developing to come, her vital organs are formed by the tenth week of pregnancy.
Your baby has surpassed the inch mark and is currently about 1.25 inches long. This is equivalent to the size of a strawberry, prune, or kumquat. Baby's weight gain hasn't been a big focus in the first trimester; he now weighs in at about a quarter of an ounce.
Big changes are happening in baby's body this week. Bone and cartilage are forming, her limbs can bend and kick, and the webbing between her fingers is disappearing. Nails are even beginning to take shape.
Also of importance, the yolk sack (which has been providing your baby nourishment) is no longer needed. Your baby's organs are able to begin making red blood cells themselves.
How Your Body is Changing at 10 Weeks Pregnant
While you're likely still encountering a variety of first trimester pregnancy symptoms, by week ten I've started to notice my body changing.
You may be watching your waist in anticipation only to be disappointed not to see a baby bump yet. Be patient. Your uterus, now the size of a grapefruit, is still nested behind your pubic bone. Before you notice a bump you'll begin to feel a bit thicker all around.
You're also likely noticing that your clothes feel different. Whether due to changes with your breasts or waistbands feeling snugger it can be hard to find a comfortable fit during week ten. This is about the time when I begin to think about shopping for a few pregnancy clothes.
Pregnancy wardrobes can be expensive, so I try to plan long-term about what items will be most useful. Loose-fitting tunics, legging, and low-waisted pants have been my staples for the beginning stages of pregnancy as well as the postpartum period. If you're planning to breastfeed, think carefully about the shirts you purchase. Many include ties or empire waists which make it difficult to nurse in.
What to Expect at Your Next Doctor's Appointment
Your initial doctor's appointment, which include an ultrasound, medical history, and exam may have been a bit overwhelming. Luckily, most prenatal visits will be more streamlined (and much quicker).
Here's what to expect from a typical prenatal visit:
Urine sample
Weight and blood pressure
Measuring the size and height of the uterus
Fetal heartbeat using a doppler
Checking hands and feet for swelling
Discussing questions or concerns you have
You'll also want to chat with your doctor about whether or not first trimester screening is a good option for you. These screenings use an ultrasound and blood test to determine if you have an increased risk of having a baby with a birth defect. They look specifically for chromosomal defects (such as down syndrome and trisomy 18) as well as heart defects.
First trimester screenings have a timeline and need to be completed before pregnancy week 14. If you're interested in these make sure you chat with your doctor about them at your next appointment.
A Dad's Perspective Through Pregnancy Week 10
At different parts of pregnancy, Moms will get a seemingly biological urge to prepare for the coming baby, whether it's shopping for nursery items or suddenly insisting that those house repairs you've put off need to get done. This is called nesting, and you might be surprised to have the urge to get ready rubbing off on you.
One way I nest in a practical way is doing a survey of the vehicle we're driving and see if acceptable as far as safety and, more obviously, capacity. Can your sub-compact comfortably fit a rear-facing car seat? Do you need to graduate to a bigger vehicle? Take some time to crunch some numbers and see what you can do to keep your growing family on the road!
We hope you've found these weekly pregnancy guides helpful and look forward to having you share your own pregnancy journeys with us too!
---
More Pregnancy Guide Articles
---
Jess Wartinger resides in rural New York with her husband and five children. Formerly an early elementary teacher, Jess currently spends her time loving her kids and holding down the fort at home.
---
Facebook Comments
---