8 Weeks Pregnant: Your Weekly Pregnancy Guide
At 8 weeks pregnant, your baby is beginning to move spontaneously.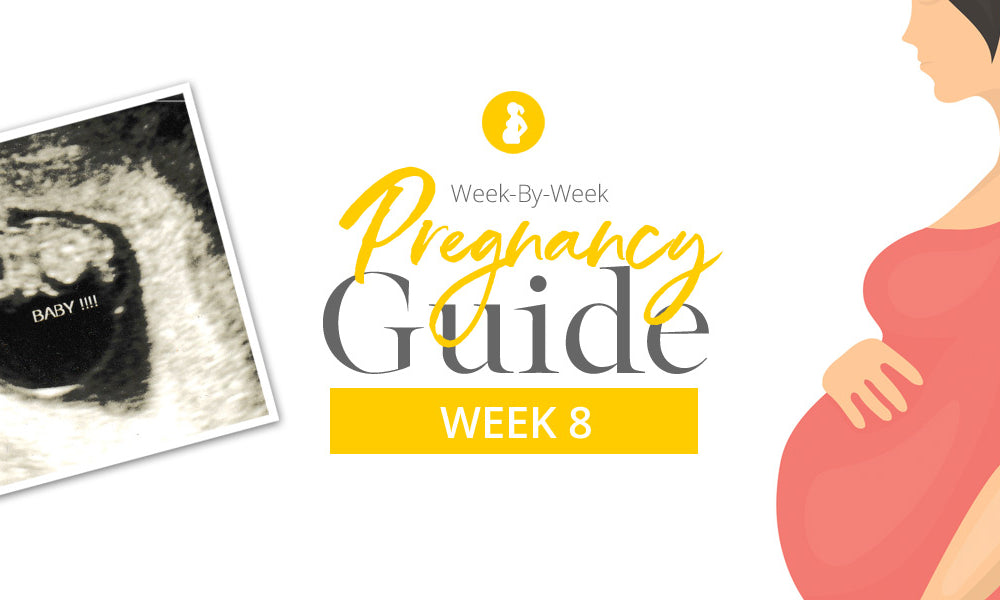 There's something about the eighth week of pregnancy that always seems like a big milestone. Perhaps it's that I've had a month to come alongside the idea of a new little one joining our family. Or maybe it's the ongoing nausea that has me convinced this pregnancy is real.
Whatever the case, let's celebrate that we've made it to week eight!
Pregnancy Week 8 Guide
Baby's Development at 8 Weeks Pregnant
In the past week, your baby has achieved astounding growth. In fact, this week baby is measuring ⅔ an inch long and weighs a whopping .04 ounces. While this seems tiny, shortly after conception your little one was smaller than a poppy seed. This week, he's grown to the size of a large raspberry or kidney bean.
Size isn't the only thing changing. This week your baby is beginning to look more recognizable. Her eyes, nose, and eyelids are developing. Webbed fingers and toes have emerged and baby is beginning to move spontaneously.
While there's still a long way (and many months) to go, rudimentary versions of baby's vital organs are now in place. Over the next weeks, the webbing between baby's fingers and toes will disappear and you'll get closer to feeling baby moving around, which typically happens sometime after week 18.
Shop
Article Continues Below Advertisement
Ultrasound at 8 Weeks Pregnant
Ultrasounds in the eighth week are fun to study. While baby still looks amoeba-like, careful examination will show his developing head and his forming arms and legs. Take a peek at my eight-week ultrasound with my third child:
Mom's Changing Body at 8 Weeks Pregnant
Many of your symptoms from the previous weeks are likely lingering and some may be getting more intense. These include:
Nausea, Food Aversions, Food Cravings
Breast Tenderness
Fatigue
Skin Breakouts or Acne
Frequent Urination
You may also notice a few new symptoms this week. These include:
Heartburn
Slight Cramping
Vivid (or strange) Dreams
For me, it's been the first twinges of heartburn. While this seems early, remembering to grab some antacids is my next step in self-care this pregnancy.
A Dad's Perspective throughout Pregnancy Week 8
I'm not a sit-around husband by any means, but by week eight I spend a lot more of my evenings picking up the daily tasks that get displaced by pregnancy exhaustion. When mama wakes to find the sink full of dishes has been washed and counters tidied up it makes her morning that much easier. One small task off her plate.
Another way you can pitch in is making lunches for the school-age kids. Nothing seems to set off the pregnancy nausea more than peanut butter and jelly first thing in the morning! A few minutes helping in this way can be the difference between a rough or smooth start to her day.
Staying Healthy at 8 Weeks Pregnant
Lately, it seems my days center on keeping the nausea manageable, finding appropriate snacks (that I can stomach), and crawling into bed right after my kids each evening. While there's not exceeding joy in this part of the journey, having completed it five times already gives me perspective. The second trimester looms in just a few short weeks; more energy and less sickness await.
Until then, here are a few ways to prepare for the upcoming weeks:
Purchase antacids for future heartburn.
Research how to extend the life of your pre-pregnancy clothes.
Decide how (and when) to share your pregnancy news.
Remember that this journey is yours. If you're nervous to share the news, that's okay. If you're shouting it to the mountains already, that's okay too. You get to determine how these details go, despite any pressure you may feel from those around you.
Grow on; you're doing fabulously!
---
More Pregnancy Guide Articles
---
Jess Wartinger resides in rural New York with her husband and five children. Formerly an early elementary teacher, Jess currently spends her time loving her kids and holding down the fort at home.
---
Facebook Comments
---